Beasties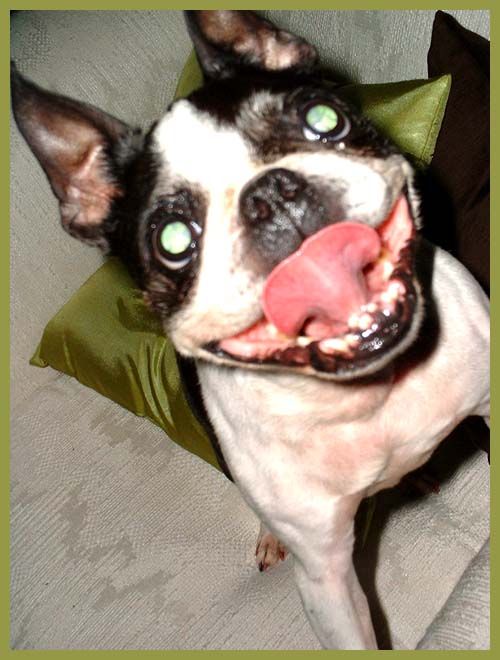 March 20 1995-September 24 2008
Beasties came into my life when I was 10 years old. I had worked for her breeders and was awaiting her arrival. She didn't disappoint. She was a freckled blur who overwhelmed her mum and 2 roly-poly boston brothers. She had a partial puppy clef palate and snuffled continuously because of it. I called her Arista, which was shortened to Beasties in no time. She was mine and she knew it, she attached herself to me, knew my voice and looked for me when I was out of site. During the first months she slept in a playpen in my bedroom. One particular night, I awoke at 4 am to a familiar sneezing in my ear. She had climbed up on top of her crate, out through a tear in the playpen, fallen down the back, and pushed her little body out through all the junk underneath the playpen; to get to me. Any other puppy would have wrecked the joint, but not Beasties, she just wanted to get to me. Through the years Beasties traveled all over my small town with me, peeking out of an old baby snuggli. She loved pig hooves, old socks with tennis balls in them, sleeping under the covers and in piles of warm laundry. She was bossy and ruled all the other dogs with ease. Beasties feigned independence, but went to pieces when I wasn't around. She snored and was gassy, but I loved her just the same. When she started going blind at age 10, she ran around that much faster, often running into things with gusto. Nothing slowed her down. By 13 she was still stealing toys from her Boston brother Sam and chasing him away from any food. But at 13 and a half, she started sleeping more and motoring around less. One day she started puffing when she was breathing, collapsed and overnight got worse. By the next morning I was on the way to Animal ER with Beasties in my arms, she seemed tired, and rested her head on my shoulder. Congestive heart failure they said, she's drowning they said; and I knew it was time to let her go. I kissed her ears while she went to join her other dog friends, then wrapped her in a blanket as I said goodbye. I looked back one more time at those familiar ears poking out of the soft blanket, and closed the door on an era.




"Have you a dog in Heaven Lord?
Is there room for just one more?
Cause my little dog died today
She'll be waiting at your door."


---

Return to Main Page